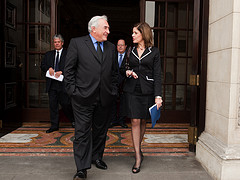 For some 'Senior Management' is up there on the twelfth floor in the clouds, resident in an Ivory Tower and detached from the everyday cares and woes of mere mortals. You think they're not going to entertain any ideas that you put forward – or at best they'll treat them in a condescending and patronising way.
It's true that some individuals do possess  a 'presence' that the rest of us feel in awe of. When they walk into a busy meeting you can suddenly hear a pin drop. When they step into a lift the other passengers give them more space. We often choose to give them more air time, respect and power (which they may not necessarily deserve).
At times like this you may find yourself cross at your inability to converse in a more normal relaxed way. You may find that any attempt at disagreeing fails miserably with you staying quiet or even agreeing. You can also get fixated with what 'Directors' think of you.
Our aim is to help you have a more balanced perspective on the relationship, so that you can have a more relaxed approach and contribute more effectively. The following steps will help you prepare to achieve this:
Step One –  These self beliefs will underpin and support your behaviour when dealing with Senior Management.
They're only human and so am I
It's easier to ask for forgiveness than seek permission
My needs are important and so are others
When I stand up for what I believe in, I gain respect from others
I can stand up for myself without attacking others
Step Two – The following' rights' will provide you with the confidence you need to behave confidently:
I have the right to deal with others without being dependent on them for approval
I have the right to be listened to and taken seriously
I have the right to know about decisions that affect me and the overall workings of my department
I have the right to suggest changes to the business
Step Three – Say these things in your head to programme yourself for a successful interaction:
"Even if they are important, I can decide calmly what to say and I don't have to be word perfect"
"I can be clear and brief and explain the benefits"
"They have a million and one priorities and will not be concerned about my accent, dress sense, spelling etc."
"If they are making changes, I can ask them what they're expecting will happen"
Once you get a positive response as a result of this preparation you'll find you have the confidence to speak more openly and frankly and get more respect from Senior Management.
photo credit: International Monetary Fund via photopin cc